Hello, Welcome to Yunjie Communication. We specialize in providing cross-border network technology services, including acceleration and optimization of the international Internet, MPLS-VPN in enterprises, SD-WAN, etc.
Direct Connect
Direct Connect (DC) is a cloud service solution to provide high-quality and cross-datacenter dedicated network connection, which make it easy to help you establish an efficient, flexible, stable and secure private network connectivity between your premises and cloud, and realize reliable hybrid cloud deployment. By using Direct Connect, enterprises can set up a private connection to realize intelligent, visual and elastic cloud interconnection among local data center, mainstream public cloud and virtual private cloud(VPC), and solve problems of private network communications from different regions or different network environments.
Enterprises hybrid cloud networking facilitates the exchange of data in and outside the cloud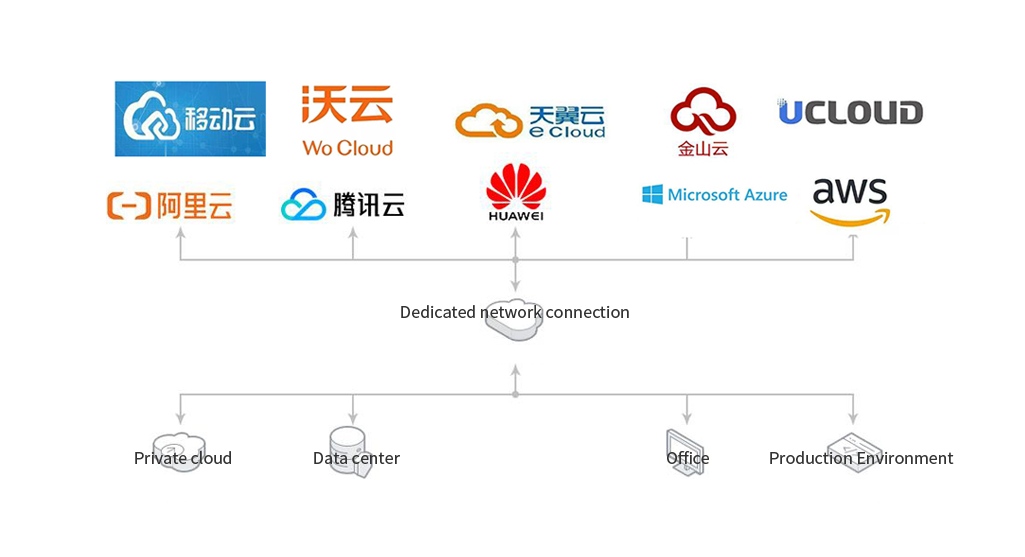 Access method: Physical fiber is connected from the client to our computer room, and then to the cloud.

Faced with the demand of enterprise cloud business, using DC can help users to realize cross-regional data exchange in and outside the cloud and quickly build a hybrid cloud environment. Direct Connect has a strong intelligent control ability and provides visual maintenance configuration interfaces, which can realize intelligent traffic scheduling, flexible billing, on-demand opening and other requirements. It can truly offer Network as a Service (Naas).
Product Functionality & Application Scenarios
Direct Connect to Public Clouds

It connects with many mainstream public cloud services providers around the world and provides high-speed and stable cloud connections. (Quick access to AWS / Microsoft Azure / Google Cloud / Tencent Cloud / Alibaba Cloud / Huawei Cloud / Jinshan Cloud / Ucloud / China Unicom Wo Cloud / China Telecom Tianyi Cloud / China Mobile Cloud, etc.)

Great Scalability

After connecting your on-premises network to the cloud, you can realize the hybrid architecture of the data center and maximize cloud resources for flexible and scalable deployment.

Direct Connect to Private Network

It supports a variety of leased line types, such as MSTP line / bare fiber / MPLS VPN line. The data center of the enterprise headquarters or branch offices can be connected to the cloud quickly. We provide secure and independent encrypted tunnels to realize end-to-end communications.
Product Features & Product Advantages
Impenetrable Security and Low Latency

Direct Connect connections are hosted by Yunjie dedicated backbone network and Yunjie computer rooms have established dedicated connections with the above-mentioned clouds. We use a dedicated private channel for communications, which features high network performance, full path security encryption, VPN network isolation, high security, low latency, and better user experience.

High Bandwidth

Direct Connect connections support multiple rate bandwidth and flexible bandwidth allocation, making it easy to grow your business and keep up with the needs of your customers.

Cloud Dedicated Network Connection

Direct Connect connections cover major regions and cities worldwide. After accessing the local CPE, you can connect the world's mainstream public cloud services providers through the dedicated network connections. (Tencent cloud / Alibaba cloud / Huawei cloud / Google cloud / AWS / AZURE, etc.).

Flexible Deployment

According to the business requirements, the network resources can be flexibly configured to help enterprises to intellectually connect the cloud, and be capable of multi-business interconnection such as remote data transmission, disaster recovery, backup, etc.

Intelligent Management

The centralized visual controller is deployed to collect the requirements of traffic scheduling and the control layer tasks of path calculation and flexible scheduling are completed in a unified way. We can realize the intelligent management such as quick response, visual path management, and rapid fault switching.

Professional Services

Yunjie provides 24/7 operation and maintenance services to create a convenient service system for you to deal with emergencies quickly and provide full stack services such as technical guidance, architecture advice, management optimization, etc.
Eight Advantages of Yunjie Products
01

17 international point-to-point optical networks, dual backup internet access and enterprise dedicated bandwidth channel are used to guarantee safe information transmission.

02

The network adopts QoS intelligent bandwidth management, with the network availability up to 99.9%, and the network packet loss rate less than 1 ‰.

03

Intelligent routing / BGP bandwidth ensures the best network speed.

04

The data center is hosted in a large IDC data center, providing 7*24hours all year around of uninterrupted service.

05

The big bandwidth lines of the three major operators in China are connected to our data centers, which can be connected to any operator network with flexible network expansion.

06

Large firewall protection and anti DDoS attacks provide security and stability.

07

Dual physical fiber access (dual routing) provides stable network bandwidth. Multi-network connection as backups is adopted to guarantee the stability of local network.

08

The company adopts the Linux dedicated router designed and developed by itself, which can support 1G bandwidth with large data throughput and good stability.
Reasons for choosing us
The company has a strong system R & D team and after-sales team, with the principle of customer first.
Product Advantages

Optical submarine point-to-point links, unlimited access to the international Internet and low network delay, which are higher than the industry average.

Security and Stability

Customer's dedicated transmission line and dedicated bandwidth to ensure the independence of information transmission channel.

Cost Advantage

The price far lower than that of physical circuit access of operator IPLC and client free installation and debugging without any extra charge.

Service Advantage

Timely response and professional technology to provide one-to-one support for you and stick to 24/7 hours all year-round uninterrupted service.
Service Flow
One-stop service of international Internet acceleration for enterprises.
Pre-sales services
Need understanding
Customized solutions
Installation and debuggin
Equipment installation
Equipment debugging
Network access
Testing
Contract signing
After-sales services
Order completion
After-sales services
Typical application scenarios
International manufacturers

Overseas branches

Transnational trade

Star hotels

Cross-border e-commerce

International logistics

Business services

Internet healthcare

International education

Overseas social networking
Room 02, 10 /F, Kenning Industrial Building, 19 Wang Hoi Road, Kowloon Bay, Hong Kong
+86 0769-88900720
+8613631779516